Left:
Seriously can you believe how long my hair is from when I SHAVED it.
Top Right:
BirchBox. Have you heard of this. If not, google. Its like getting a birthday present every month! You get samples of nail polish, makeup, laundry detergent, and more!
Middle Right:
Business attire. Skirt-Bohme. Belt-The one and only Forever 21. Tank/Undershirt- Polo. Cardigan- From highschool.
(Please tell me I'm not the only one that still rocks the highschool clothes?!?)
Bottom Right
: Summer Bag. Polo.
Linked with
http://crowleyparty.blogspot.com/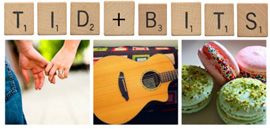 P.S. Have you had a chance to look at my pages above? Im pretty proud of myself. Read

"Mission Statement"

I think every family should have one. Its a great guidline, and way to steer yourself back to a family centered heart everytime you get upset about how your husband cant wash his shavings off the counter sink! Really! Its not that hard:)