I found this cute link up party over at
Two Smuppies
. Thought it would be a fun one to do.
Its called Peep Please, they give you a category and you give all your fellow bloggers out there a "Peep" of the category.
Today is the Refrigerator.
It was fun looking at everyone elses fridge and realizing, I officially suck at
A. Being a wife
B. Organizing
and
C. Grocery Shopping.
So without further ado, meet my refrigerator:
So anyways, that is my fridge, nothing healthy, nothing worth blogging about, nothing worth eating.
What good are you for anyway!?!
Link up your fridge with Peep, Please.
*P.S. after stalking all the other link-ups I found out, mine is the only one with out liquor in it, special? I think so..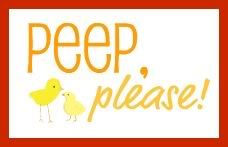 On an off chance, does anyone want to go grocery shopping for me?
XOXO, Tere